Prof. Dr. rer. nat. Dagmar Krefting
Department of Medical Informatics
Head / scientific Head Collaborative Clinical Research
Prof. Dr. Dagmar Krefting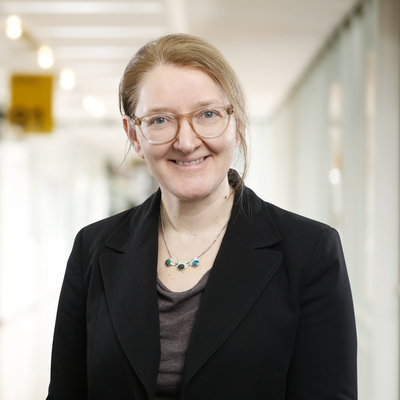 contact information
secretariat
Address
Department of Medical Informatics
Robert-Koch-Straße 40
37075 Göttingen

consulting time
Profile
Dagmar Krefting is Director of the Institute for Medical Informatics at the University Medical Center Göttingen and holds a professorship in Medical Informatics. She studied Physics and Chemistry at the Georg-August-University of Göttingen, and the University of Montevideo, Uruguay. Her main research focus in her PHD was nonlinear dynamics, where she was granted the Berliner-Ungewetter doctoral thesis award. In 2004, she was postdoctoral researcher at the Fritz-Haber-Institute of the Max-Planck-Society in the group of Gerhard Ertl before she started working at the Institute of Medical Informatics at the Charité-Universtitätsmedizin Berlin. Maintaining the research interest in nonlinear dynamics — then applied to multidimensional biosignal recordings, she investigates the technical and organisational tools and methods to build collaborative biomedical research environments for inter-institutional research networks. In 2011, she joined the University of Applied Sciences Berlin as a Professor for Computer Sciences. She co-founded the Research Cluster Health, the Center for Biomedical Information and Image Processing and the cybersecurity lab. She received the University's research prize 2018 and conducted several research projects on collaborative research infrastructures and advances analysis methods, including deep learning methods, since 2019 at the University Medical Center Göttingen. Here she is in particular engaged to create collaborative national biomedical research infrastructures and takes a leading part in the Medical Informatics Initiative, the Network University Medicine. In the German Center for Cardiovascular Diseases, she coordinates the clinical data platform and the transfer office and leads the collaborative research data platform in the upcoming German Center for Child and Youth Health.
Research focus
Collaboration platforms for biomedical research.
A particular focus is on the cross-institutional sharing and analysis of multidimensional biosignal recordings, such as ECG and EEG, but also sensor data collected via wearables. A further focus is on the security, reproducibility and reliability of the research environments, including deep learning methods.