Why study Medical Informatics?
Information for prospective students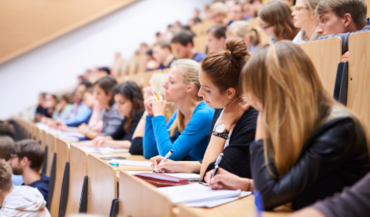 Thanks to their training, medical computer scientists can be deployed flexibly and can find attractive employers in the health care system and health care industry throughout Germany. The field of activity can be care-oriented, for example in hospital IT, but also institutions in health service: health insurance companies and federal institutes offer interesting job opportunities for medical computer scientists.
There is also a wide range of private companies active on the healthcare market, which results in a high demand for medical IT specialists. And there is also the option of an academic career in research.
As broad as the job opportunities for medical computer scientists in Germany are, the graduates must also be flexible and well-trained. The medical informatics training at our department reflects the variety of profiles demanded on the job market.
Interdisciplinary education
Medical Informatics is a highly interdisciplinary science. Every person who has already observed medical care in medical practices or hospitals knows that medical care is highly dependent on information technology. At the same time, one observes the engagement of different professional groups: Doctors and nurses need to work together, as do IT specialists and medical engineers. All these people exercise their profession under complex organizational, economic and legal conditions. New technologies cause constant change and challenge work routines. These effects should not be underestimated. Important related keywords are big data, machine learning, and clinical decision support.
At the Department of Medical Informatics we perceive interdisciplinary education as the best way to prepare you for your future professional challenges. Outside of our core curriculum, we also contribute to a wide interdisciplinary network of study programs. The scope and topics taught vary according to the aims of the study program. Whenever it is feasible, we educate students from different programs together so that the students of each discipline can benefit from each other. Accordingly, our team of lecturers consists of experts from various disciplines.
Application & Consulting
We do not host all study programs we contribute to ourselves, but cooperate closely with a number of faculties. Applications for admission to a study program must therefore be directed to the respective faculty. However, we will be happy to provide you with advice on orientation at any time. Your first point of contact for student counselling is the teaching coordination team at the department. There are no fixed office hours, you can contact us at any time. For more complex matters, however, it is advisable to make an appointment in advance.