IEEE EMBS Student Club Göttingen veranstaltet internationale Vortragsserie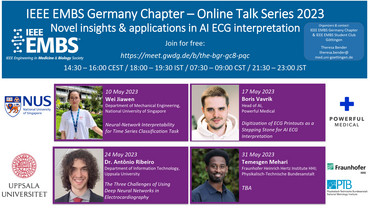 Um das Netzwerk der IEEE Engineering in Medicine and Biology Society (EMBS) in Deutschland weiter auszubauen, haben Studierende des Instituts für Medizinische Informatik einen Student Club in Göttingen gegründet. Dies ermöglicht die Organisation von Veranstaltungen wie zum Beispiel Talk-Serien oder gemeinsame Abende mit Austausch und Networking.
Als Startschuss wurde eine internationale Talk-Serie im Mai, die ''mAI Talks'' organisiert. 4 Vorträge finden dabei im Mai 2023 rund um das Thema ''Novel insights & applications in AI ECG interpretation'' statt. Dabei sind unter den Vortragenden Universitäten und Institute wie die National University of Singapore, die Uppsala University in Schweden und das Fraunhofer Heinrich Hertz Institut sowie die Physikalisch-Technische Bundesanstalt aus Berlin vertreten. Auch das Unternehmen ''Powerful Medical'' präsentiert Ihre Arbeiten in einem Vortrag.
Den ersten Talk hielt Doktorandin Jiawen Wei des MatheXLab im Department of Mechanical Engineering der National University of Singapore mit dem Thema ''Neural-Network Interpretability for Time Series Classification Task''. Der Vortrag war ein erster Erfolg mit rund 20 Gästen und im Anschluss erfolgte eine Frage- und Diskussionsrunde, welche durch Philip Gemke, Doktorand in der Arbeitsgruppe Biosignalverarbeitung am Institut für Medizinische Informatik,moderiert wurde.
Am 17. Mai findet ein weiterer Talk mit dem Thema ''Digitization of ECG Printouts as a Stepping Stone for AI ECG Interpretation'' des Unternehmens ''Powerful Medical'' statt.
Weitere Informationen zur Veranstaltungsreihe finden sich auf der Webseite des Deutschen Chapters des EMBS: https://www.ieee.de/chapterpage_emb/
Weitere Aktionen des Student Clubs Göttingen erfolgen zeitnah. Ebenso sind Gäste und Mitwirkende jederzeit herzlich willkommen! Kontakt: theresa.bender(at)med.uni-goettingen.de